Robert Simpson - Blue Plaque
Robert Simpson - Reflections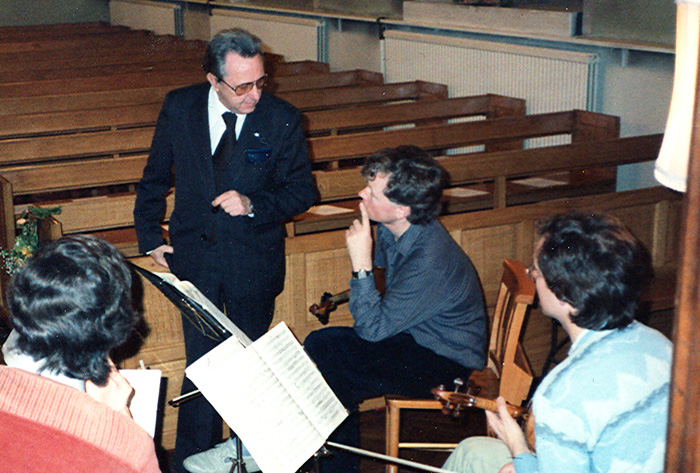 BLUE PLAQUE FOR LEAMINGTON COMPOSER
The Leamington born composer Robert Simpson died in 1997 but will not be forgotten in Leamington, when on Friday 17 June 2010, a blue plaque was put on the house in Rosefield Street where he was born. Angela Simpson his widow attended the ceremony, along with his sister, Mim.
The initiative came from the Leamington Blue Plaque Committee and the ceremony was followed by a reception at Leamington Town Hall. A further plaque was unveiled on the same afternoon, for the actor Norman Painting, known principally through his many years in The Archers.
Leamington Music was very much involved with the event and co-promoted a concert with the nearby Royal Spa Centre that evening, featuring the Coull String Quartet, which had a close association with the composer.
Robert Simpson wrote eleven symphonies and fifteen string quartets, which for the second half of the twentieth century, remains an unusual achievement. His parents had been in the Salvation Army, so he also became well known in the brass band world. Simpson was equally prolific as a writer and as a celebrated producer on Radio 3, championing a range of composers from Haydn and Beethoven to Bruckner, Sibelius and Nielsen, who he almost single-handedly introduced into England. He provided much pleasure to listeners with his programme The Innocent Ear, but he eventually resigned from the BBC, disillusioned with its policies. He was also a notable campaigner for peace.
The concert on 17 June took place in the Studio Theatre of the Royal Spa Centre at 7 30. The Coull Quartet played Haydn's Quartet in C Op 33 No 3 'The Bird' and Beethoven's 'Razumovsky' Quartet in E minor Op 59 No 2, with Robert Simpson's Quartet No 7, written in 1977 to celebrate the centenary of the birth of the astronomer Sir James Jeans. Simpson was a keen amateur astronomer.
The Coull Quartet first met Robert Simpson in the late 70's, in his role as senior music producer for the BBC Radio 3, when they recorded music by Brahms and Rubbra. Shortly afterwards they were invited to illustrate some of Simpson's public lectures on Beethoven's chamber music and they also began to explore his own string quartets. Their relationship with the composer blossomed throughout the 80's and in 1984, the University of Warwick commissioned his tenth string quartet, on the occasion of the Coull's tenth anniversary. They also gave the world premieres of the eleventh and twelfth quartets and his viola quintet, subsequently recording these works for Hyperion Records. The Coull Quartet regularly features Simpson's quartets in its concert programmes, and his traditional yet highly distinctive voice has fascinated and impressed audiences and critics alike in the UK, Europe and America.
The concert on 17 June was supported by the Robert Simpson Society, Leamington Town Council and a private donation. Leamington Music is financially supported by Warwick District Council and Leamington Town Council, many sponsors, trusts and individual donors.
Robert Simpson and the String Quartet
Philip Gallaway writes about the Coull Quartet's friendship with a remarkable, yet unassuming composer.
We worked closely with Bob Simpson over a period of several years. We first met him when he was a BBC producer in the 70s, when we made a studio recording of Brahms and Edmund Rubbra, who he felt had been unfairly neglected. Subsequently we illustrated some talks he gave on quartets by Beethoven, Tippett and others. His modesty prevented him from telling us about his own quartets - we learned of those from someone else!
When prompted, he suggested we should try his 7th first - a work of which he was especially fond, and which was dedicated to the astronomer Sir James Jeans (Bob was also a keen astronomer). The work is in three main sections; a fast, intense central section framed by two quiet slow ones, rather like, in Bob's words, someone viewing the Earth from the silence of outer space, then moving gradually closer, so that all the hectic activity and noise on the surface of the planet is revealed in detail before returning to the quietness of space.
We enjoyed this work so much that we commissioned his 10th for our 10th anniversary in 1984, with funding from West Midlands Arts and the University of Warwick. The 11th was commissioned for us by our friend Mike George, another BBC producer. The 12th we also commissioned, and we gave the first performance of the Viola Quintet, although this was the result of a BBC commission for another group who had disbanded.
Bob was very helpful and encouraging to us, and always gave down to earth advice. I once asked him how to phrase a fortissimo melody which had accents on every note. 'Just sock every note on the bloody nose' was his reply! He wasn't keen on over-use of vibrato or sentimental portamenti.
When we first worked on the 11th quartet we were very concerned we wouldn't be able to play it at the metronome mark he had indicated. When Bob came to one of our final rehearsals before the first performance he admitted, much to our relief, that he'd got it slightly wrong, and had intended a much weightier character, so he reduced the metronome mark accordingly. He said that he wasn't the first composer to make this mistake - singing something in your head often results in a faster mark than the one you arrive at when actually playing it. Perhaps good advice when dealing with some of Beethoven's metronome marks! He was very insistent that we should achieve the exact tempo relationships between the movements in this work, his intention being that the listener wouldn't immediately be able to tell where one movement moved to the next. He said the last movement should sound bleak and deathly, like the aftermath of a nuclear holocaust. Quiet, but not peaceful.
The 11th quartet is the one we performed most, though I am especially fond of the 10th. In the third movement, Bob said he was trying to define 'peace', but he always maintained this wasn't meant to be a political statement (though he was a life-long pacifist). This wonderful portrayal of calmness and serenity was the music my wife chose to listen to while giving birth to our first son in 1988.
Both the 10th and 11th were almost invariably well reviewed in the press, even by critics who felt Simpson's music was a bit 'old-fashioned'. The New York Times critic was especially complimentary about the work when we played it at the Frick Collection, later selecting our recording as one of his 'CDs of the Year'. The 12th Quartet is a slightly tougher proposition to perform and listen to, as it consists of two very long movements, which are rather challenging to sustain, whilst the Quintet with extra viola is a wonderful work which deserves far more performances than we've so far been able to give it!