Coull Quartet tour of Germany and Poland - April 2-13
On April 10th the Coull Quartet performed in Berlin in the beautiful Heilig-Geist-Kapelle, the city's oldest church. Invited by the departments of British Studies and Economic History at Humboldt University, the first half of their concert was a tribute to Benjamin Britten, who was born one hundred years ago; Tchaikovsky's highly emotional 3rd Quartet completed the programme. Before the concert, Professor Nicholas Crafts, from the University of Warwick, gave a talk on the subject of Britain in the European Economy.
The Coull Quartet's first trip to Berlin was in 1990 – when the infamous Wall was still largely intact, but no longer serving any purpose other than for providing tourists with small chunks of graffiti-covered concrete! They remember the stark contrast between East and West – the acrid smell of the two-stroke engines of the famous 'Trabi' cars, and the grey, deserted streets of the East, which seemed to inhabit a different era from the opulence the West, with its busy, modern shops and restaurants. Now the whole city is exciting and thriving, and the only remaining section of the Wall has become a vibrant art gallery.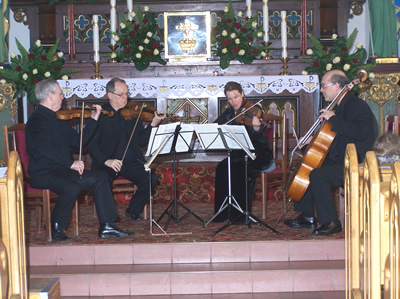 The Quartet's Berlin concert was followed by their first visit to Poland, where they enjoyed a collaboration with the Choir of St. Anne's, Berlin, under the direction of Agnieszka Wolf. As well as performing quartets by Haydn and Britten, they gave two performances of Schubert's Mass in G, both in a traditional concert setting, in Scinawa and during a church service in Wroclaw (Breslau).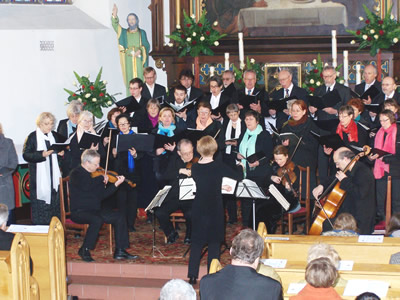 Whilst in Poland the performers stayed at the Reconciliation Centre in Kreisau, the small Polish town where the so-called Kreisau Circle was established in the 1930s. This 20–strong group of eminent figures was determined to remove Hitler from power, but their efforts only led to an unsuccessful assassination attempt on his life in 1944, resulting in the execution of the group's leader.
The combination of such reminders of these darkest moments from European history, the friendship and warmth of the excellent choir from Berlin, and the enthusiasm of the audiences in Berlin and Poland, all added up to make this an event which will remain in the Coull's memory for years to come.