Tavern Concert
Historical Note
Christina Bashford's pre-concert talk
Christina Bashford
Coull Quartet Tavern Concert Project
Concert at the Trafalgar Tavern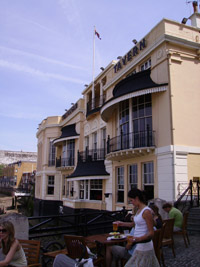 On Sunday 21st September 2008 we presented an unusual, if not unique concert, at the Trafalgar Tavern by the Thames at Greenwich, that was the culmination of the first stage of our collaboration with the music historian Dr Christina Bashford, Trinity College of Music and the Meantime Brewing Company.
We recreated an event originally promoted by the violinist Joseph Dando on 17th January 1838 at the London Tavern in Bishopsgate, so that we could illustrate the historical connection between classical music and pubs. As far as we know, Dando's tavern concerts were the first public events dedicated solely to chamber music, and they would have attracted a broad cross-section of the professional and merchant classes for whom taverns were the natural and obvious places to meet for business and social occasions.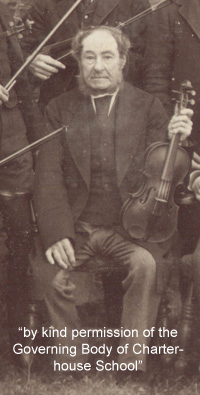 Dr Bashford gave a fascinating pre-concert talk whilst beer historian Peter Haydon gave a short introduction to the development of London ales and taverns between items in the first half of the concert. To add to the historic atmosphere, the audience were able to sample historically authentic ales provided by the Meantime Brewing Company.
The contribution of five students from Trinity College of Music was much appreciated. We thoroughly enjoyed working with Victoria Rawlins (viola) and David Hnyda (double bass) who joined us for the Spohr Viola Quintet and Onslow Bass Quintet, whilst the Greenwich Piano Trio gave us all a much needed break in the colossal programme with an exciting performance of Beethoven's early E flat Trio.
Programme:
Onslow Double Bass Quintet Op33
Haydn Emperor Quartet op76 No.3
Beethoven Piano Trio Op1 No.1
interval
Spohr Quintet for two violas Op69
Beethoven Quartet Op18 No.6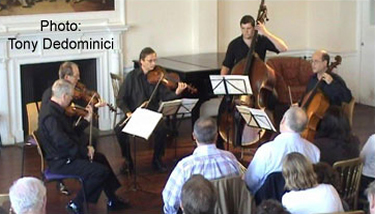 The concert was an incredibly interesting experience for us as performers, and the Spohr and Onslow Quintets gave the programme a very distinct flavour. We felt that both works, particularly the Spohr, were of high quality and enjoyable to play, but very much of their time: melodramatic with florid, virtuosic writing, especially for the first violin. Set alongside the Haydn and Beethoven it is clear why they have not become part of the canon of chamber music (although they were enormously popular in the mid-19th Century), as their musical language is so unmistakably 'Victorian' and just didn't 'translate' to the 20th Century, let alone the 21st. We do believe that they are still well worth hearing, though, and we are looking for further opportunities to present works by these unjustly neglected composers.
Next Stage
Having made a connection with history, and explored our 'roots' as chamber musicians, the next stage of this project will try to place it all in a 21st century context. We feel that there is no reason why live chamber music cannot be enjoyed in a relaxed setting more like a jazz concert, with the audience seated at tables with food and drink, free to come and go between movements, and are currently working with the Meantime Brewing Company to find other suitable venues in London and elsewhere where we can present informal 'tavern' concerts. We hope to be able to announce some more concerts very soon.
Acknowledgments
We are very grateful to the John S Cohen Foundation, the Golsoncott Foundation, the Garfield Weston Foundation and Emma Davidson for the generous financial support they have given to this project.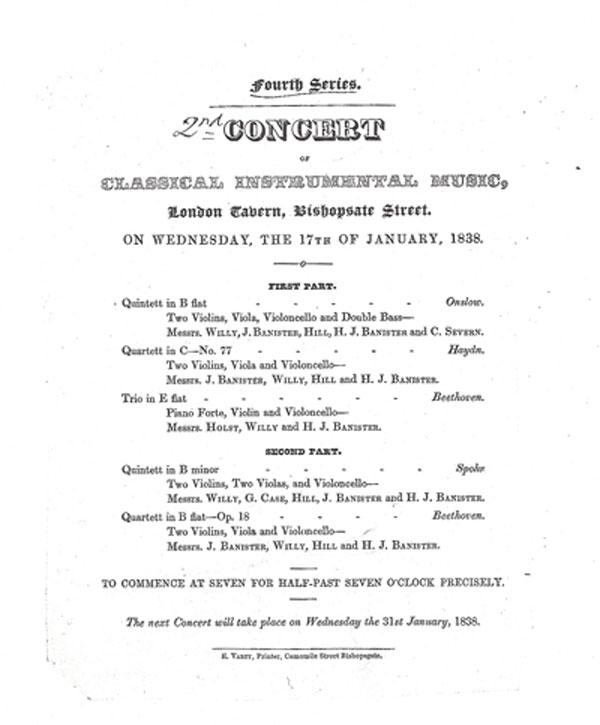 Courtesy of the RCM Centre for Performance Studies
Historical Note
Dr Christina Bashford's note for the Concert Programme, 21st September 2008:
"Chamber music concerts - in venues such as the Wigmore Hall and the Purcell Room - are something we take for granted in London today. But their origins are both little known and surprising. For unlike Vienna, where string quartet concerts started c.1805 in the palace of Beethoven's patron Count Razumovsky, London's chamber music culture began thirty years later, and in a seemingly unlikely location: the taverns of the City district. The City was an area synonymous with finance, commerce and self-made wealth, and some of its taverns served as meeting-places for businessmen, or hosted important social functions, including banquets. They also held concerts. As such, these buildings were a long way from the dingy drinking pub that the word 'tavern' conjures up in the modern imagination.
The City chamber music concerts were spearheaded by the violinist Joseph Dando, who began his venture in the Horn Tavern, in the shadow of St Paul's Cathedral, in 1835-6. He later moved the concerts to the London Tavern (on the west side of Bishopsgate), which boasted a fine upstairs saloon that was used for music. Today's performance reconstructs a concert given at the London Tavern in January 1838 (the printed programme for the actual event is preserved in the Royal College of Music Centre for Performance History), and includes a rarely-played quintet with double bass by Georges Onslow and a two-viola quintet by Louis Spohr, alongside more familiar works by Haydn and Beethoven. The long programme is fairly typical for the time, but it differs strikingly from what went on in concerts in the more fashionable West End, in that it eschews vocal numbers and concentrates exclusively on instrumental repertoire. The City was, even at this time, home to many serious classical music-lovers.
No-one knows exactly what the concert space at the Horn Tavern was like. Nor do we have much information about how the London Tavern worked as a chamber music venue. But putting on this event in Greenwich, in the elegant upstairs room of the Trafalgar Inn (which opened in 1838-9), is a good way of recreating the ambiance of an 1830s City tavern concert. We can listen to the same sequence of instrumental works that early nineteenth-century listeners did. And we can think about what it means to programme chamber music in this manner, and in this sort of setting. In effect, today's concert aims to bring the social history of chamber music to life in a new and stimulating fashion."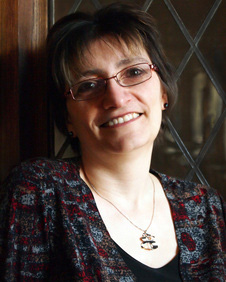 Christina Bashford
Associate Professor of Musicology and Assistant Director for Graduate Studies
Certificate in Teaching in Higher Education, Oxford Brookes University; BA, University of Oxford; MMus and PhD, King's College, University of London.
Christina Bashford's main research interests are in performance history and the social and economic history of music. Her focus to date has been on musical culture in 19th- and early 20th-century Britain, particularly London, and this has resulted in a range of work on chamber music, concert institutions, audiences, program notes and listening practices. She has published articles and reviews in Music & Letters (winner, Jack Westrup Prize, 1991), the Journal of the Royal Musical Association, the Journal of Victorian Culture, Musical Quarterly, Notes, the Journal of the American Musicological Society, and Eighteenth-Century Music, and has contributed to several volumes of essays, including The Cambridge Companion to the String Quartet (2003) and The Musical Voyager: Berlioz in Europe (2007). Her book, The Pursuit of High Culture: John Ella and Chamber Music in Victorian London, was published by the Boydell Press in 2007. She also co-edited, with Leanne Langley, Music and British Culture, 1785-1914: Essays in Honour of Cyril Ehrlich (Oxford University Press, 2000).
Prior to coming to Urbana-Champaign, Dr Bashford was on the faculty of Oxford Brookes University in England; before that she served as the Managing Editor of The New Grove Dictionary of Opera. She is also a collaborator on the Concert Life in 19th-century London Database, a research project founded in 1997 with colleagues at the University of Leeds and Goldsmiths College, London. Now an active member of the North American British Music Studies Association, she hosted the society's fifth biennial conference here in July 2012. Her current work includes a project on violin culture in Britain and beyond, 1880-1930; she has recently published a preliminary essay on the British violin press in Music and Peformance Culture: Essays in Honour of Nicholas Temperley (2012).

(photo: Suzanne Hassler)
Christina Bashford's web page