'…the magnificent, seasoned ensemble of the Coull' The Strad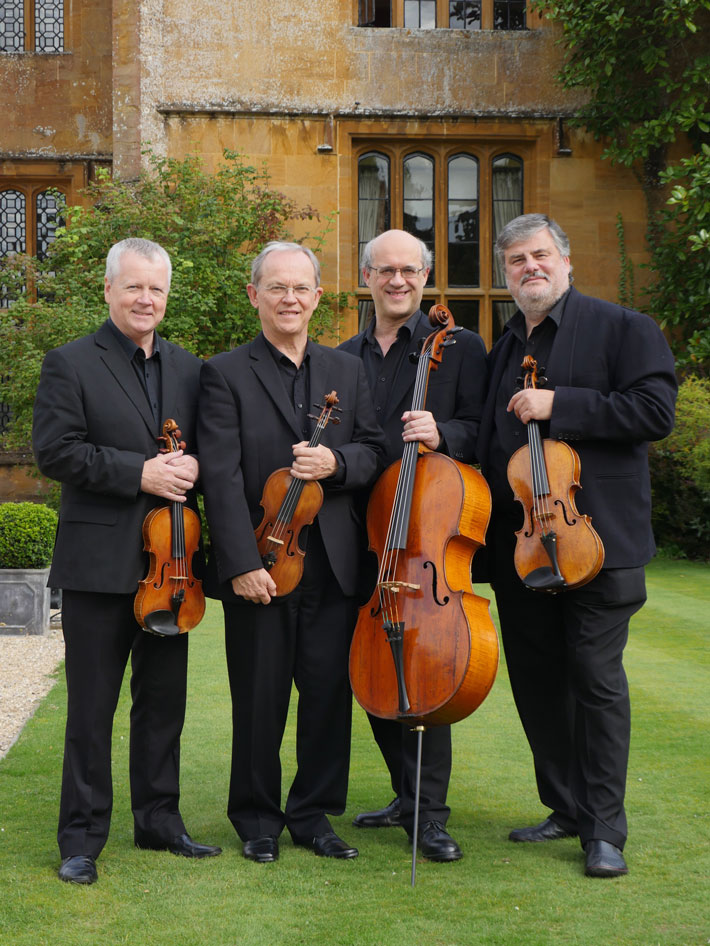 COULL QUARTET
Roger Coull violin
Philip Gallaway violin
Jonathan Barritt viola
Nicholas Roberts cello
'…the magnificent, seasoned ensemble of the Coull'. (The Strad)
Formed in 1974 by students at the Royal Academy of Music under the guidance of renowned quartet leader, Sidney Griller, they rapidly achieved national recognition, and were appointed Quartet-in-Residence by the University of Warwick in 1977, a post which they held for over forty years. The Quartet, which includes two of its founder members, has performed and broadcast extensively throughout the UK, and has made tours of Western Europe, the Americas, Australia, China, India and the Far East.

Since the mid-1980s the Coull Quartet has made over 30 recordings featuring a wide selection of the repertoire closest to their hearts, from the complete Mendelssohn and Schubert quartets to 20th century and contemporary British chamber music. Their CD of quartets by Maw and Britten on the Somm label received universal acclaim; in addition to being featured in 'Editor's Choice' in The Gramophone, it was also described as the 'Benchmark Recording' by BBC Music Magazine. Their recordings of music by Sibelius, Ian Venables, also for Somm, have received excellent reviews in the major musical publications, as has their recent CD, 'Treasures from the New World', with pianist Clelia Iruzun.

Their impressive and wide-ranging list of commissions includes works by Sally Beamish, Edward Cowie, Joe Cutler, David Matthews, Nicholas Maw, Robert Simpson and Howard Skempton. These include string quartets, quintets with piano or wind instruments, works with solo voice or choir, and even a piece for quartet and table tennis players.
The rare combination of maturity and freshness which characterises the Quartet's performances is often singled out by reviewers:
"Here the playing is so brimful with enthusiasm and commitment, and at the same time so infused with the accumulated wisdom of three decades, that the music simply reinvents itself as it should". (The Strad)

Interviews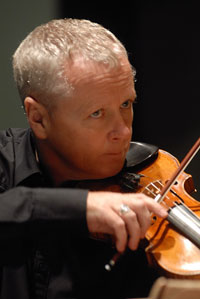 Roger Coull

How old were you when you started playing?
I was twelve and seemed to take up another interest every week, i.e. cycling, collecting coins, collecting newts, orienteering etc. My parents were convinced that this would be another flash in the pan, but somehow it stuck.
How did you first become interested in chamber music?
When I was sixteen I was playing a lot of orchestral music and had the opportunity to go to Germany on a music course. It was mainly orchestral but also included some singing and chamber music. I was fortunate enough to be put into a group which was to play Schubert's quintet in C (with two cellos). Although the performance was a little rough and ready the whole experience was so wondrous for me that I decided that if I did not become a quartet player it would not be for lack of trying.
How did you form the Quartet?
When I was a student at the Royal Academy of Music there was the option of chamber music coaching from one of the finest quartet players of his generation: Sidney Griller. Needless to say I enrolled in his class and formed a quartet. After about a year Sidney encouraged me to think seriously about forming a quartet which would aim at going professional. Having deliberated for all of half a second I went about the process of finding like minded students and in 1974 formed the Coull Quartet.
Was it plain sailing from the beginning?
We worked very hard and decided to put on a lunchtime concert at the Academy, playing one of Mozart's hardest quartets: K590 in F. We were all desperately nervous but it seemed to start reasonably well and then disaster struck, our cellist's spike slipped! In hindsight it was probably quite amusing for the audience as our cellist chased his instrument around the platform with three hangers-on, but at the time for us it was panic stations. Apparently there is a tape of the performance somewhere with the last movement setting an all-time speed record!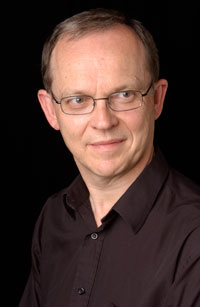 Philip Gallaway
You normally introduce the concerts, why do you feel this is important and what kind of things do you talk about?

Audiences like to feel that performers and composers are human - there are plenty of interesting and amusing anecdotes about both! I think a little bit of chat before each piece helps to get the audience in the right frame of mind for the music they are about to hear.
What was your most embarrassing time in the Quartet?

There have been a number! One was when my bow broke just seconds before the end of Schubert's "Death and the Maiden" quartet. The other three members of the quartet, needless to say, carried on to the end. Another was when, during a tour of Italy, we marched purposefully onto the stage, with big smiles, to find that the audience was standing in silence, heads bowed, in memory of a committee member who had recently died!
Which are the most challenging works you have played?

Bartok 5 is quite a daunting work, with rhythmic complexities, technical difficulties, and the sheer concentration required. The Brahms quartets seem musically challenging, as do certain movements in the late Beethovens.

How does the quartet choose its repertoire?

A combination of factors - we try to perform as much of the standard repertoire as possible, as well as works we have been specifically asked to play by promoters. We try to avoid pieces which any of us have a strong dislike for, but there are very few of those.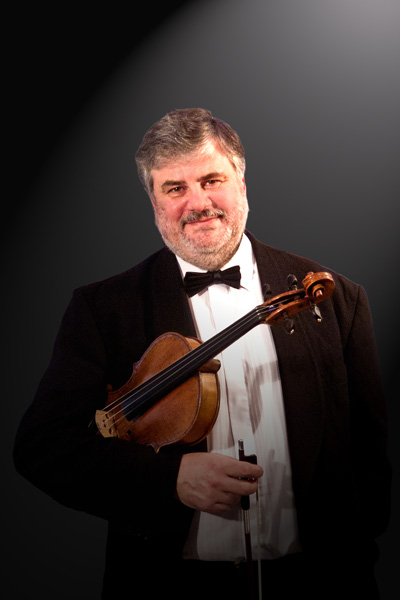 Jonathan Barritt
Jonathan studied at the Royal Northern College of Music with Atar Arad and Mischa Geller and was awarded all the major prizes for viola. He graduated with distinction in 1983 and was immediately offered a position with the English Chamber Orchestra where he was appointed co-principal viola in 1988. He was sponsored by the ECO Music Society in his London recital debut at the Purcell Room, and he has since regularly played concertos with the orchestra.
As a very versatile artist, Jonathan has managed a varied career and is much in demand as a soloist and chamber musician both in the UK and abroad.
He has subsequently worked with most of the London Orchestras and has guest led the London Symphony, London Philharmonic, Philharmonia, London Mozart Players and BBC viola sections.
He has worked with many chamber groups including Capricorn, Divertimenti, Raphael, Gaudier and Primavera ensembles and has given Quartet concerts with William Pleeth, James Galway and Kiri Ta Kanawa.
In 1995 Jonathan left the English Chamber orchestra to join the Allegri String Quartet. After six years with the quartet he returned to the ECO as principal viola.
He is a professor of viola at the Royal College of Music and the Junior Academy of Music.
Viola by: Giovanni and Francesco Grancino c.1680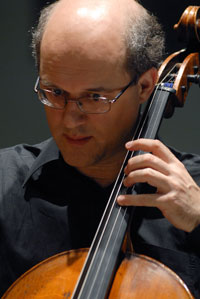 Nick Roberts

Do you find it musically restricting being in a full-time quartet?
The repertoire is so vast, and so many composers have written some of their best works for the medium, that I can't imagine ever feeling stale and in need of a change. It also helps that I spent twenty years performing with most of the top UK ensembles and orchestras, and covered virtually every area of classical, baroque and contemporary music, and I feel as if I have 'come home' to quartet playing.
What for you is the most satisfying aspect of quartet playing?
I simply can't think of a better 'job' than studying and playing the late Beethoven Quartets without some ghastly conductor getting in the way! To be in control of, and to be able collectively to develop our interpretations of great music over many years is a rare luxury.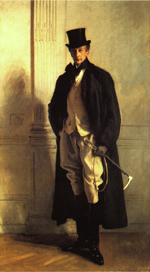 Who made your instrument?
It is thought to be made by Grancino in Milan circa 1700. It was brought to this country one hundred years later by the virtuoso cellist and teacher Francois Servais who sold it to the first Lord Ribblesdale of Gisburn in Lancashire as an Amati. By the simple expedient of glueing a forged Amati label inside the cello Servais would have achieved a far higher price from Ribblesdale than if he had sold it as the work of the lesser-known Grancino. I possess a letter regarding the "Amati" cello from the fourth Ribblesdale who was the subject of the well-known and wonderfully austere portrait by John Singer Sargent pictured.