The Coull Quartet playing Shostakovich Quartet No. 8 from a performance with Mark Rowan Hull for the Art and the Senses Conference at Oxford University in September 2006. Photography: Ed Moore
Synaethesia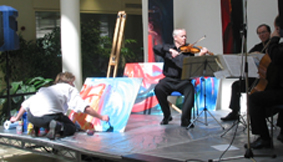 Many people experience a form of 'synaethesia' that enables them to 'see' sound as colour, and we have been working with the painter Mark Rowan-Hull to find out if knowledge of this 'merging of the senses' can help some people with their understanding and appreciation of music.
In September 2007 we took part in the Pallant House Gallery, Chichester, exhibition 'Eye Music – Kandinsky, Klee and all that jazz', performing works by Benjamin Britten, John Taverner, Edward Cowie and James Aitchison.  Mark joined us on stage to paint 'live' in response to our performances of Britten's Quartet No.3 and John Tavener's Quartet 'The Hidden Treasure'.
Mark explored the visual qualities within the music, creating a dialogue between the two art forms, and there were short talks by Professor Vincent Walsh and Dr Simon Shaw-Miller about synaethesia and its relationship to both music and art.  Two short works by Edward Cowie and James Aitchison completed the programme: three of Cowie's evocative and enchanting 'Birdsong Bagatelles', and Aitchison's 'Elegy for Terry Frost', written in response to a painting by John Hoyland.


The event seemed to attract a wider audience than is usual for chamber music, and their response was refreshingly intense! Whether they were for or against the images produced or projected, we felt the presence of visual images encouraged a different kind of listening, and we are hoping that we can promote similar events that aim to provide another 'route' into chamber music appreciation for inexperienced listeners.